All over the world, Ash Wednesday is a day of Christian self-reflection and repentance. Except in Germany, where it doubles as a political festival. With beer, of course.
I'm aware of this day's significance to the Christian calendar, but it doesn't hold much personal meaning for me.  I never really gave much thought to it;  it's a day when my Catholic friends sport dirty foreheads, my morally-uplifted friends announce what they're giving up until Easter, the entire population of New Orleans googles for hangover cures, and apparently Joe Biden gets clumsy. But my opinion changed when I moved to Germany.
Here's the thing: in the US, politicians kiss babies in photo ops. On this day in Germany, they drink beer.
Every Ash Wednesday the political parties in Germany hold rallies. The leaders give stump speeches while their supporters…well…drink beer. It's a tradition dating back 50+ years, and now officially dubbed "Politischer Aschermittwoch" (translation: "Political Ash Wednesday"). What I find so astounding, coming from the United States, is that every  TV news broadcast, newspaper, and magazine is filled with pictures of every leading politician drinking an obligatory beer at their respective party's rally. Entire montages are made my media outlets documenting who drank what, where, and from what sort of container.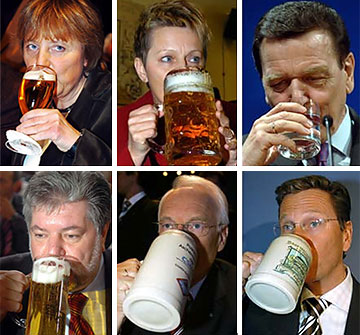 Some politicians, supposedly wishing to highlight their belief in a counterculture, make sure they are photographed drinking something unorthodox, like tea, milk, or water. Sometimes also from beer glasses.
Standard American political photo ops do sometimes run to odd subjects: pardoned turkeys, groundhogs, and friendly handshakes between enemies. But definitely not beer. I find it amazing that alcohol is such a fundamental part of German culture that beer itself is a photo op used by politicians to endear them to their constituents. And that it all happens on the first day of a period of abstinence! Sometimes I really love living here in Germany.
Here's some more photos of drinking politicians for your enjoyment (and believe me, I cut this list down. There are loads!). The sites are in German, but you get the idea.
One final side note for my German-speaking friends:  I always have to look twice at the headlines…my brain swears it's reading "Politischer Arschmittwoch" 😀